IoT Simulator 2.2 Release
by Hema | Mar 17, 2020 | Announcement, IoT Simulator | 0 comments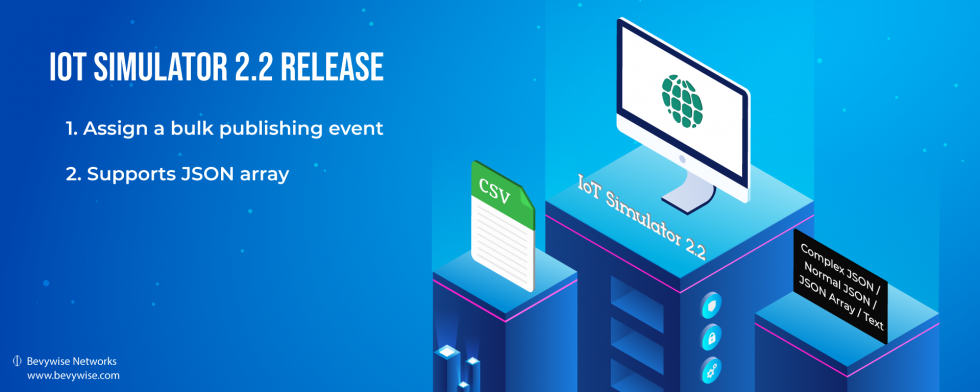 Simulating various scenarios is essential for testing & developing real-time devices & managers. We believe that event configuration should be much easier & simple so that we can spend more time on validation & analysing the final data. We at Bevywise always strive hard to make our solutions easier & faster for our customers. Hence, we enable CSV Import option in IoT simulator to configure the IoT events to publish time-based messages. With a new update you can save your time by submitting your pre-defined data in csv file.
Assign a bulk publishing event
Sending events with different variable data at different times that is creating a time-based message publishing will make the simulator event generation more versatile & robust. CSV importer will allow you to assign a bulk publishing event during a specific time interval. You can configure the IoT events by uploading your pre-defined data set as csv file. This allows you to add or update events at one time, avoiding the need for updating multiple times.
CSV import option will simplify & saves time on the IoT event configuration. With the new update you will be able to replace the time-consuming methods & get your events to be published in an effortless, simple & faster way.
Supports JSON array
For all IoT implementations, JSON,/ has become a default data format because of its light weightness and scalability which makes it easy to get & load the requested data quickly. JSON is preferred for all IoT applications since it can self-describe. JSON is a way to store information in an organized & easy-to-access manner. The previous version already provides support to simulate more complex nested MQTT JSON data.
Most devices use the JSON array to transfer data in a simple & efficient way. To enable testing in a more efficient way, we have made a simulator to publish messages with multiple data and information. With the new update, IoT simulator provides support to simulate JSON array data which help you check the efficiency of your devices more accurately. By this functionality, you can now simulate any level of JSON to help you test your manager application.
Keep an eye out for further updates and upgrades. Try the latest version of Bevywise IoT Simulator now.