MQTT Broker 2.0 Released – Things you need to know
by Hema | Jul 30, 2019 | Announcement, MQTT Broker, MQTTRoute | 0 Comments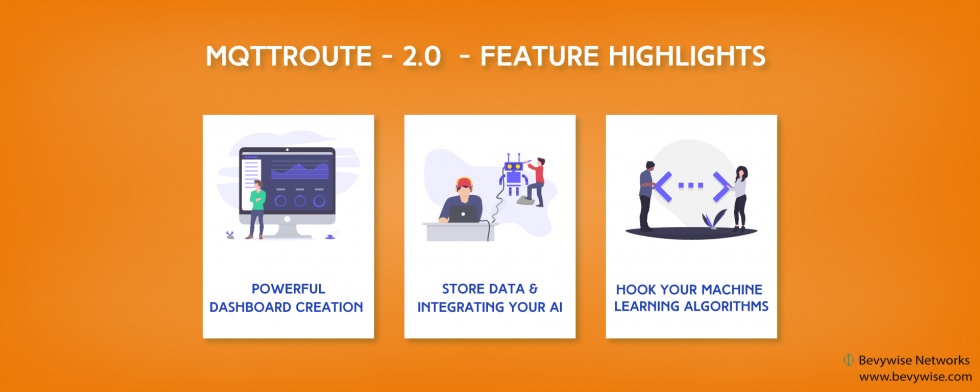 Industry 4.0 is the talk of the town since it was first announced. It has become the top priority of current industrial development, which drives industries towards better productivity to remain in competition. Developing IoT / IIoT application should 100% cover the requirements for building up a complete Industry 4.0. Therefore, we have kept this in mind and transformed the MQTT Broker into an IoT application framework. The phrase "Eat your own dog food" helps us identify the enhancement to develop a complete IoT application framework over MQTT Broker. Not like other mqtt broker, by just sending and collecting data, however, our new version MQTTRoute has more application oriented custom options. For instance, it provides a complete IoT application including user interface customization, custom storage configuration and Data preparation.
User Interface Customization
User Interface is one of the most critical success factors for Industry 4.0. As the utilities of user interface differs with industrial requirements, it is fair to provide a custom UI option. The Extendable user Interface module provides option to present the data in a way your industry needs. You can configure your dashboards to add live charts and graphs. You will be able to design your user interface to make it flexible for your industry. Our next version of the MQTTRoute will be focussed on dynamically adding widgets from the User Interface for live dashboard & historical reports.
MQTTRoute – Custom Storage Configuration
Storing and retrieving data alone will not make any improvement in your industrial race rather than it requires a perfect analytics. However, it needs data visualization and interpretation for powerful analysis and decision making. Hence it is best to hook the received payload and store the data into any of your analytics. MQTTRoute has an extension to store the data in any of the big data engine for powerful analysis. This functionality was already available. In addition, the new additional hooks will help you add event based triggers with comparison of event data & analysed data and notify the dashboard and other communication channels.
Data Preparation
ML & AI works best when the data already collected is processed better. Scheduling module helps in processing of data on a predefined time interval. You will able to aggregate data using your own algorithm and store it in the indexed buckets of elastic or your customized storage engine. You can add your own widgets and notifications to the dashboards as required for your industry.
This new IoT application framework will help building and managing industrial IoT applications faster and much easier.
Feel free to write to support for a complete Demo.
Download MQTTRoute 2.0 now to start your IoT Implementation.