7 Key Benefits behind Digital Transformation
by Hema | Sep 28, 2023 | Industry 4.0 | 0 comments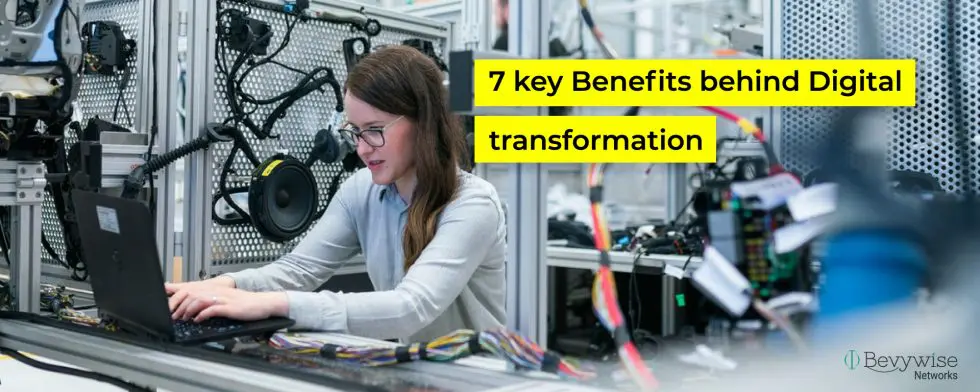 Improved Efficiency
Manufacturing companies make large investments in machinery and they need to achieve the maximum returns on their investment in a short span of time. Improved efficiency is one of the key benefits of digital transformation. So manufacturing industries can expect a high level utilization and performance with the help of digital transformation. It reduces production losses, achieves greater competitiveness and improves machine utilization.
The reliability of manually estimated overall equipment efficiency will not be fair at all time. Hence they need a production monitoring solution that estimates the essential KPIs with the real-time status. The right OEE software will provide a real-time insights into production, improving performance & operational efficiency.
Optimal Work Load
Optimal Work Load is one of the most considerable metrics. Especially resource allocation, scheduling and assigning tasks depends upon optimal work load. Consider an example, In the early period of business, filling documents manually can be quick & quite easy. However, when the business scales up, manual data collection has become very cumbersome. It is important that you need to file, find and store documents in a quick & effective way. When you decide to assign an employee, it will be very time-consuming and its access time will be too long. However, when you deploy digital transformation, all data can be effectively stored and retrieved in minutes. Even it is a smart way to display a report. Finally, Digitalization will be the best solution & right way for optimal work load.
Flawless Data Collection & Storage
Manufacturing industries need to implement several process improvements in order to guarantee high quality products and reduce costs. Industries are realizing the essentials of flawless data collection to improve operational efficiency. The process of data, in fact, provides customers with highly effective tools in evaluation options and traceability. Data Storage is useful because the past data analysis helps to make decisions in a difficult situation. In a simple term, digital transformation converts raw data into meaningful insights. It helps to make the right decisions at the right time.
Track Materials Easily
The journey of raw material to production goods is an important process in the manufacturing unit and tracking it seems to be a difficult one. This is because the end to end flow will decide the profit of the entire industry. Monitoring & measuring the raw material usage, bad quality outcomes, the progress of final products to enter the sales market are the most responsible & complex processes in the field of manufacturing as errors may rise at any phase. Tracking & measuring such process manually will not be accurate. However, Digital transformation provides a smart way tracking of end to end system without any paper work enabling easier tracking of materials.
Production Co-ordination
One of the biggest drawbacks in traditional manufacturing is the lack of proper communication medium. This reflects on the outcome of product and the quality of work. However, production coordinator needs to ensure that the production department meets its quality standards & their production target. Without proper & effective communication between departments, it is impossible for them to coordinate their team & get effective results. Hence, in recent times, the emerging technology of using mobile & software applications will simplify communication and enhance collaborative work. This will also ensure the flexibility of knowledge sharing for industrial growth.
Increased Profits
The overall global economy depends on the manufacturing industry. Moreover, the profit of manufacturing industry is a huge key in the financial market. But the overall profit will get disrupt with some factors like low machine utilization, downtime, worst OEE, manual tracking & manual performance management.
However, the above challenges can be simply solved by digital transformation. It provides an overall picture of the company from financial to inventory. It helps to create a more stable, predictable production environment. Tracking overall equipment efficiency over time is the foundation for improving production line performance and process quality at the same time.
Resolve a hidden factory
The first step of productivity is to discover a hidden factory. The concept of the hidden factory was primarily focused on quality, especially the waste and costs caused by bad work. Some of the hidden factors are mentioned below:
Schedule Loss
Performance Loss
Quality Loss
All these factors can be rectified with the help of smart OEE tools.
Flexibility
Digital transformation enables a remote control of entire manufacturing processes. So many industries already started using digital transformation technologies for proper stock management, human resources management, scheduling & utilization. Still, there are so many areas that every manufacturer should concentrate on. Manufacturers should highly adopt digital transformation as it enables the use of more flexible technology to transform the entire factory.
Hope the above listed benefits of digital transformation provides you the better understanding on why to implement it.
Do you have any requirements?? We will provide you a customized solution specific to your needs.