Metaverse + IoT Data + 5G : What the future holds?
by Ponlakshmi | Sep 26, 2022 | General | 0 comments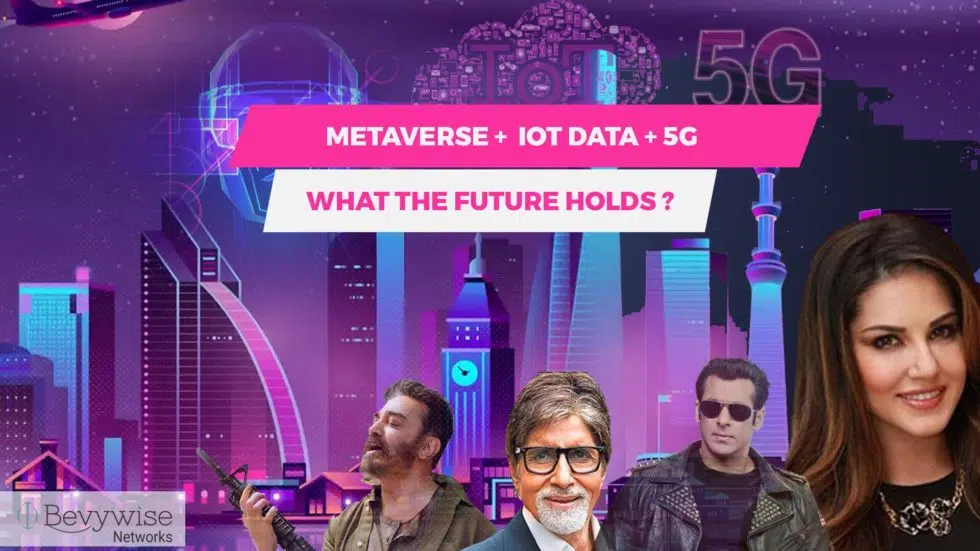 At every phase of time, one modern technology joins the realm of technology. As a result, that modern tech inhibits a few other technologies while simultaneously growing alongside this new technology. It is similar to the Metaverse, IoT technology and 5G.
Metaverse :
Metaverse is a popular and highly imaginative innovative technology. It is a fictious version of today's internet. And it continues to exist as a monolithic, multilateral, immersive online realm enabled by the use of virtual and augmented reality. Metaverse's current data and statistics serve as a foundation for forecasting its growth. It is estimated that Metaverse will be worth nearly $800 billion worldwide by 2024, up from nearly $478 billion today. It is only plausible owing to the advancement of the internet during the year 2020. The Metaverse is a global concept in which anyone can generate their own virtual avatar. Universal hero Kamal Haasan is the first and probably most important Tamilnadu resident to create a digital avatar and link it to Metaverse. Thereby, he has joined an illustrious list of Indian celebrities, including Amitabh Bachchan, Sunny Leone, Salman Khan, and an Indian fashion designer named Manish Malhotra.
IoT :
Any physical object can be integrated with sensors, processing power, and software using the Internet of Things (IoT). It is a technology with the ability to connect to other devices and systems over the internet or other communication networks and exchange data with them.
5G :
Wireless communication is now possible due to 5G technology. There are almost no restrictions on it. The world has become truly wireless as a result of this technology. Information is transmitted at an astoundingly fast rate. The advancement of technology is made possible by the presence of high connectivity and clarity in both audio and video. All wearable devices are compatible with this. With this technology, multiple concurrent data transfer paths are supported. This 5G technology has sparked a significant revolution in driver-less cars, the Internet of Things, and the Metaverse. The download speed of 5G is approximately 100 times greater than that of 4G's speed and it's the exact level of performance that is needed for the inter-connected society. Latency is the biggest difference between 4G and 5G. 5G is far better than 4G in all aspects like bandwidth, average speed, etc. The average speed of 5G is nearly 10 times greater than that of 4G which has the average speed of 25 mbps. The bandwidth of 4G is 200mbps whereas that of 5G is greater than 1gbps.
Everything coming together :
The combination of Metaverse, IoT and 5G data will have a huge impact in the upcoming decade. These three technologies are interrelated either directly or indirectly. These three technologies are waiting to make miracles happen in the future. We'll gain a higher level of experience by using these technologies than the experience we gain by using today's technology. Solutions to many problems can be attained through these technologies. It is anticipated that these technologies will surely bring about several changes in various fields.
Despite being a fully functional virtual environment, Metaverse cannot function alone. Only tangible objects can be used to view the virtual environment. Furthermore, the most fundamental item is an internet connection. Dependent upon Live Users' experiences, connectivity must be constant. Data communication is dependable with 5G technology. Metaverse can offer high-quality audio and video since it also has low latency to provide a positive customer experience. This will be possible due to 5G technologies. Take the meal delivery app as an illustration, which utilises map technology. Likewise, the Metaverse virtual environment depends on 5G for ongoing user interconnectivity and IoT for connected physical objects.
Benefits :
Remote work challenges are addressed
Great technology for healthcare professionals
Making online games further exciting
Experience of virtual tools can be attained
Better social interactions
New dimesion of social media
Mesmerizing user experience
Enhancements in online learning and education
Profit-makings from outcomes
These advanced technologies will have a huge impact in the future.
Our experts are on the initial stage of discussion about the implementation of these advanced technologies. To show your interest towards this, connect with our team of experts.