7 Essential Software Tools for Manufacturing
by Hema | Dec 30, 2020 | Industry4.0 | 0 comments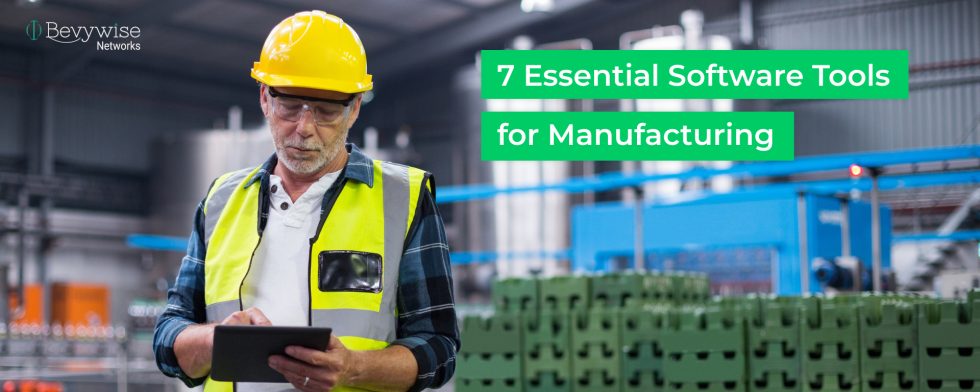 Everything is done manually before the arrival of software tools. The perspective about doing it manually, may differ from one person to another person. However, the manual process will be extremely time-consuming and it usually entails more employees being involved in the process. Manual process costs will therefore suddenly get out of control. Even though companies have wealthy budget to pay the work force, the erroneous data and the decisions that arise out of the manual efforts can cause serious problems. Tracking and overall visibility will be flawed and there will be a lot of security issues. It will be harder to make changes in the process. The one stop solution to resolve all these challenges can be the utilization of software for manufacturing that provides more end to end solutions. Software tools will provide more intellectual solutions.
Enterprise Resource Planning
ERP (Enterprise Resource Planning) is a software solution that helps organisations to manage their business processes. The goal of ERP software is to increase efficiency, streamline process, present a culture of collaboration in an organisation with minimized costs, increase productivity and operational flexibility. It provides complete visibility into core business process and optimizes systems by its superior resource tracking and reporting, database management and data sharing functionalities. It helps your business to realize its true growth potential. In spite of the improvements ERP has brought in with their automation on the business process, the amount of manual entries from different functional units inside the manufacturing has not come down.
Equipment Efficiency Tracker
Manufacturing companies make a large investment in machinery and they need to achieve the maximum returns on their investment in a short span of time. So they need a high utilization and performance of their machines. Manufacturing can achieve this via digital transformation with the help of OEE Software. OEE (Overall Equipment effectiveness) is nothing but the overall measurement of production efficiency. Manual overall equipment efficiency reliability will not be fair at all time. Measuring OEE with the complete software for manufacturing providing a real-time status will help you reduce production loss, achieve greater competitiveness and improve machine utilization.
With the advent of the Industry4.0 and using the technologies like Modbus, MTConnect, and custom data acquisition techniques, the need for monitoring the machines in real time is becoming mandatory. Industry 4.0 Solutions like Pace DPR is a one such complete production monitoring system that can help measure and improve OEE to the world standards.
Traceability Tools
Stock management tools allow industrial organizations to monitor and purchase the supplies needed according to customer demands. It instantly monitors the availability of the projects in stock in real-time. This software can be integrated with business account and operational departments for efficient and productive transactions. It totally avoids bottleneck problems.
WIP is one of the major hidden cost centre for any manufacturing. An optimal WIP is very important for keeping the operational cost low and at the same time execute the manufacturing to the maximum output. It is very important to automate the WIP Tracking using the integration with the other software.
Production Planning & Control Software
An efficient planning of manufacturing process is the key to fulfil promises and expectations of your customers. We know that, time is the most precious resource, because we can't get it back. If there is a delay in production, you can't satisfy your customer's expectations. Hence, for an efficient management of time, production should be properly planned & scheduled. Without effective planning & scheduling, production management at every level will be challenging with a risk of failing to track the workflow. Hence a production planning & control software for manufacturing is needed for task tracking, chart preparation and assigning resources.
Equipment Inventory & maintenance Planner
Equipment Maintenance is an important factor in the long term success of a company. Worst Maintenance resources can cause instability and have the chance of being a barrier for production. Malfunctioning machines (or) complete breakdown will cost high for manufacturing Industry. MTTR (Mean time to repair ) and MTBF ( Mean time between failures ) are the two most powerful performance metric for efficient equipment maintenance. MTBF is a basic measure of the reliability of a system, while MTTR indicates efficiency on corrective action of a process. To monitor both you need a right software to track them & schedule maintenance. Once a weekly or monthly schedule was set for maintenance, it will be automatically maintained based on the set. Reminders will remind us of the forgotten moment also. Even maintenance cost and history can also be seen in software.
CRM
Customer relationship management is maintaining and creating relationships with customers. It is not only about business, it is also about creating a strong personal bonding with people. This will definitely lead to new value creations. It contains every bit of details about customers. If the customer is satisfied they will remain in business forever resulting in an increase in customers.
Advanced AI Tools
Correlation of data generated from different functional units in manufacturing is very much isolated today. Decisions today are made based on isolated data. Every manufacturing company has a need to build its own algorithm to correlate the data for a unified and effective decision. These tools need to be built involving the key stake holders of the organization who have a complete understanding of the process as well as the vision of the company.
To know more….Talk to our experts to discuss about your requirements at your shop floor to improve your manufacturing productivity.