5 Problems Smart Manufacturing can solve for any Industry - Bevywise
by Hema | Jul 14, 2020 | Industry4.0 | 0 comments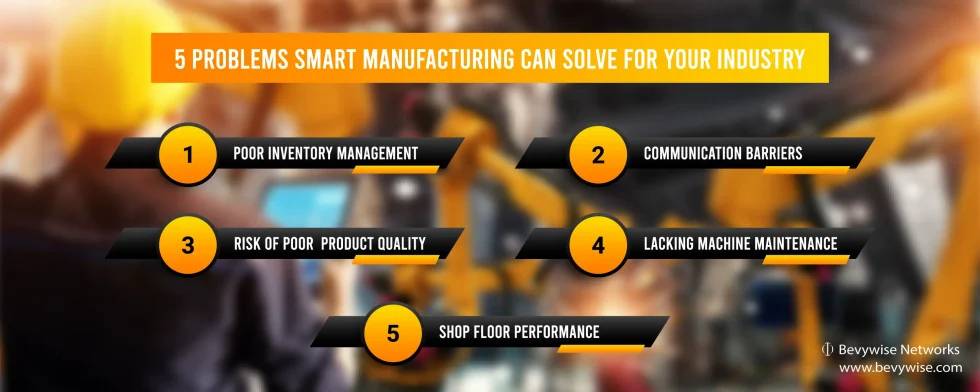 Manufacturing is the round the clock dynamic industry, where manufacturers confront new troubles and concerns day after day. Manufacturers will be heavily haunted by these production problems that pop up out of the blue, habitually at the worst possible time and involve a great deal at stake for the manufacturing industry. The industrial manufacturing process operators / production managers will mostly be out of ideas about the challenges associated with terribly complicated & intricate production operations, and they probably have been up nights endeavouring to clear up usual production problems. The dramatic challenges in the manufacturing industry will surely enforce them to rethink on powerful manufacturing strategies. Hence, there is a new landscape emerging, digital transformation that requires manufacturers to move and change at lightning speed. Their responsibility of monitoring and overseeing production increases to solve out the existing & emerging production problems. This article lists a few of the top concerns that manufacturers are grappling with and some potential solutions to achieve operational excellence.
Poor Inventory Management
Be it any manufacturing industries, handling & managing inventory is immensely critical for industrial growth & creates various production problems. As a part of supply chain, from supervising and inspecting purchases from suppliers as well as customers, managing & protecting the storage of stock, controlling the amount of product for sale, to fulfilling order, inventory management is the base. No matter where the inventory is located: be it warehouse, multiple locations or consigned or drop-shipped from supplier, managing inventory better is an absolute for improved cash flow and reduced expenses. That being said, grasping the habitual challenges in inventory management began to be extremely important and industry heads are looking out for solutions to solve out the issues & improve customer satisfaction.
Quite few of the common challenges manufacturing industry faces with respect to inventory management are
Inaptly located material
Out-of-date material
Excessive stock
Stock theft
Inaptly located material – This will eat up a great deal of time of manpower and it is tough to identify a product among stocked.
Out-of-date material – Failing to recognize and utilize obsolete materials will lead to an increase in expenses and waste of the material.
Excessive stock – Poor stock control & management by the managers.
Stock Theft – Shortage or theft of inventory material lead to production downtime or delay.
A one step solution to tackle all these challenges is automating inventory management. The real-time inventory tracking system enables industries to forecast stock levels and streamline work operations. By getting the accurate information of indoor positions of each asset, there is greater inventory visibility. The inventory tracking system can account for any inconsistency in the stock levels and alert real-time. With an accurate inventory management system, it is easy to trace the point where the inventory went missing or got stolen.
Communication Barriers in production line
Manufacturers rely on global suppliers for their need on raw materials in order to complete the manufacture of their products successfully. Counting further parties such as contractors or vendors or other parties, to their supply chain will substantially shoot up the prospects of miscommunication and blunder. Also, the production may be carried out in distinct spots across the country, or even four corners of the earth, and diverse teams operating on components of one product. The thing is manufacturers must make sure that their supply chain is functioning properly.
The stumbling-block is that the diverse manufacturing team that may be operating throughout the territory or the globe don't actually recognize where they are in the process. Manual updating will not be the correct solution. This is because they may miss out things & also it will be more time-consuming. On lacking an effectual means of communicating what's actually taking place, there is virtually no possible way for all the teams operating on the production to view if there is any changes emulated in the production schedule and give them the opportunity to react promptly.
The potential solution to tackle these production problems and improve communication between supply chains is the use of real-time production monitoring systems. Such a good initiative will let supply chains to make use of data generated by the system to give real-time insights into how they are working. With an access to this real-time data also help improve performance and operational efficiency.
Risk of poor product quality
Quality is the essential factor for any manufacturing industry and the top quality outcome generates unwavering customer loyalty. It drives an requisite & crucial contribution to ROI and profitability. Keeping an eye on the equipment/products around the clock is immensely paramount to carry on a healthy inventory. The faults or imperfections in products will fail to meet customer expectations & can harm business reputation. And hence, finding defective material on a daily basis is essential for fixing the production problems or replacing it with another. Today, manufacturing industries perform this task manually every day and this consumes a lot of time. Hence, the precision real-time data on bad quantity in the production line only will help in avoiding the production of rejects.
Production monitoring system allows production managers / operators to record the number of bad items produced. Quality can be improved by analysing production data and the number of rejects in order to identify the flaws. Moreover, the reduction in rejects will help in improving product quality & customer reputations.
Lacking Machine Maintenance
Manufacturing downtime is one of the biggest challenges for every manufacturer / production manager out there. Most of the manufacturers are not truly focused on understanding the true cost of the machine downtime, which is why industry-wide costs remain in the billions of dollars. Failing to catch sight of your stressed or repaired equipment will result in the significant loss to the manufacturing industry. For instance, if a crucial part of your manufacturing equipment breaks down or fails at a key moment in the production process, you will lose substantial cost with an extensive impact on your industry's bottom line.
Then, How to overcome the unplanned downtime? The only solution to overcome the downtime is to prevent it from occurring.
Hence, regular predictive / preventive maintenance is essential in a manufacturing facility. It's not just a matter of keeping the lights on and it is much more than using log sheets to record the event manually. It is key to making sure that the product makes it to market on time. Production monitoring systems will track how, when, where the downtime occurs & will help in preventing & managing the excessive loss. Recording the downtime & identifying the reason for downtime will significantly reduce the production issues & increase the production rate.
Shop floor Performance
A small alteration in the production line in the shop floor will have a great influence & effect on production performance & creates serious production problems. Therefore, an ideal shop floor running is required to strengthen the shop floor performance and to set the seal on sustainable efficiency of the production process. Hence, measuring the essential metrics of the shop floor is required to ensure the efficiency of the production. Each and every product managers, who is keen in boosting the production process and willing to lift the production to the next level, needs to collect and analyze the relevant data or suitable metrics. The perfect metrics will help the operators to find the weak spots in his production floor by providing all the necessary information and insights that every manufacturer demands to revamp and boost the production endlessly. The one such important metric is the OEE which has become an important measure for many manufacturing facilities as a way to examine shop floor productivity. It is a combination of three commonly used measures such as availability, performance and quality. Availability is the detection of the number of time industrial assets are functioning to provide an added value to the production process against being down. Performance is how optimal the assets are operating at their maximum speed of production. Quality is a measure that reflects the rejects as a percentage of production. By lacking OEE measurement, manufacturers will face several challenges including misunderstandings on the shop floor, finally resulting in poor production efficiency.
Hence, OEE measuring system can be implemented in the shop floor to enable real-time access to the machine productivity, availability and the operator availability and performance and also supports new capabilities such as predictive maintenance. With this new level of prognostic precision comes an improvement in condition monitoring processes, providing manufacturers a full visibility into their production line. This will drive greater efficiencies and productivity throughout operations in the shop floor, deliver higher-quality outputs, and increase profitability.
Finally, an exhaustive production monitoring system that provides an absolute view of the shop floor from production line to supply chain is a one-stop solution for all the production / manufacturing industry needs. Pace DPR, an IoT powered production monitoring system is one such digital transformation initiative that helps manufacturers decrease their go-to-market time-span and increase their product quality and revenue output. It helps industries extract data from Machines from digital signals on machine panels and Microcontrollers using Modbus, Profinet, MTConnect, OPC UA, etc. This manufacturing tracking system will increase the production efficiency by many folds.
To know more….Talk to our experts to discuss about your requirements at your shop floor to improve your manufacturing productivity.