Top 10 Benefits of Automating your Home
by Hema | Sep 17, 2019 | Device Manager, General | 0 comments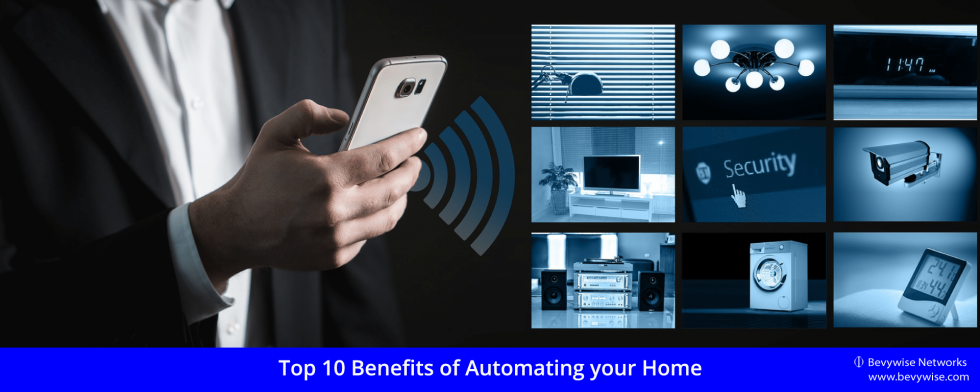 The word "smart" which all of us expect in our day-to day life either in the form mobile phones, watches etc. Because these are the powerful tools that make our life much easier. Every advancement in technology enhances their impressive capabilities that we can utilize at our fingertips. Hence, the next big step towards smart technology is automating home. The benefits of home automation, not only upgrades the home to be smarter but also provides a new lifestyle. This article covers the overall benefits of automating home.
Benefit -1 Enhanced Home security
As the famous quote says "safety is the first priority", safety is the major concern for all people. One of the greatest benefits of home automation system is that it provides high level security. Through an automated home security system people can lock their doors even with the tap of their finger. It allows people to monitor who is entering home always and get alerted each time when someone enters. Therefore, this quickly eases the mind of people who are worrying about their home safety.
Benefit -2 Safety on Appliances
Home automation provides added protection to the home & family. It provides a complete control over lighting, power, heating devices & electrical devices with a touch of finger tip. Hence, this prevents the unexpected fire hazards & severe scenarios. This even provides the security alerts to neighbours to make an immediate action towards safety.
Benefit -3 Trimming Energy
Automating home will keep people away from spending more energy. It will eliminate the power consumption of unaccompanied devices & appliances. They will have precise control over healthy and cooling of home that suggests the best energy efficient throughout the day. Automatic adjusting or switching off lights, air-conditioners etc when not in use. By using less power people will get benefited by reducing monthly energy costs.
Benefit -4 Convenience & Luxury
With home automation system people can conveniently control or operate lighting, heating & electrical devices using remote controls. Considering the situation, when we comeback home after sometime, we experience it either too hot or cold. We feel it is inconvenient as it usually takes a good amount of time to increase or decrease the temperature. With the benefits of home automation, we can adjust the thermostat from anywhere before reaching home. This makes it more convenient.
Benefit -5 Become more productive
Since we are living in a very fast-paced environment, we don't have time to worry about our home. Hence, Home automation is a beneficial system for a busy person who has a great deal of to-do list at work.
Benefit -6 Home automation Saves Money
Home automation system saves money. The beneficial impact the home automation system can provide is on the utility bill. People will no longer spend more money for household appliances in the form of energy wastage. This helps in reducing electric costs and saving money.
Benefit -7 Elderly ease and Baby proofing
Through the benefits of home automation system, people can keep their eye on children. The integrated baby monitors & alarms with a smart home system can check the safety of infants. As people age, simple works will become difficult. With features like voice command, home automation provides freedom & ease to the elderly.
Benefit -8 Healthy living made easy
For decades, Cities such as New Delhi, California, Skopje and Beijing from different countries in the world have been highly dealing with poor air quality. However, the air inside home is often more polluted than the air outside. Such conditions affect the health of the family. Home automation system with thermostat can monitor for conditions like air quality & humidity and can be integrated with air purifiers to address the ever growing problem of air pollution inside home.
Benefit -9 Promoting Peace of mind
Home automation is a perfect investment for those who habitually worry about whether they take care of everything at home before leaving. It provides a complete control on all home devices with a better sense of security providing a great relief from obsessive worry.
Benefit -10 Contributes to economy
Using the necessary amount of energy & resources is also the biggest way to contribute to the economy. Hence, home automation will surely boost our economy.
Are you a Home Automation solution provider looking for server side application, we provide a complete end to end server framework with
Complete MQTT support to connect any devices & gateways
Powerful rules to control devices & create alerts
Secure communication
Powerful UI to manage connected devices
Try out the features now to build your home automation system.